Page last updated: 25 November 2017 (website last updated: 28 November 2017)
Welcome to the Waxbill Finch Society's website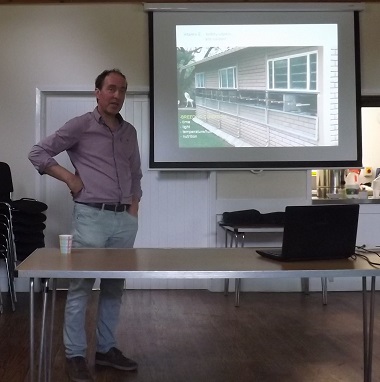 Jos van Himbergen speaking to members at the 2017 AGM
2017 Annual General Meeting (AGM)
The WFS 2017 AGM took place on Sunday 11th June at the South Eastern branch venue in Great Hallingbury, Essex, which was a change from the usual venue in Doncaster.
The AGM saw a good turn-out of members who were treated to an excellent presentation/ discussion on bird nutrition by Jos van Himbergen. A wide variety of birds were also available (DEFRA rules applied).
New committee members: Alan Jarvis is the society's new secretary while Andrew Poonians takes over from Tom Flude as treasurer. Full details will appear later on this site and in the next edition of The Waxbill.
2016 WFS members' breeding returns
Neil Bickell would like to thank all members who sent in their 2016 breeding returns, which have now been incorporated into our website. Our returns page also allows you to download the detail in Excel or pdf fashion. This year, we have added a colour-coded feature to highlight the link between these returns and species continued viability in aviculture.
Members who joined since 01 January 2016 were eligible for the Top New Member award which, this year, went to J Hird. Full details of all the special breeding awards feature in the Summer 2017 edition of The Waxbill.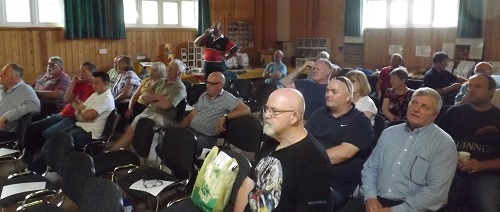 2017 AGM at Great Hallingbury, Essex
2017 Target Species
Following the 2015 breeding returns, it was agreed that the WFS would set a target species for the coming year to help promote awareness of, and encourage members both to keep and breed, that species. For 2016, the orange-cheeked waxbill was chosen and the WFS were delighted to see 31 birds bred in 2016 from a low of only 1 in 2015. For 2017, it has been agreed to retain the orange-cheeked waxbill but also to add the red-cheeked cordon bleu as its numbers have precariously dipped in recent years. The 2017 target species are therefore:
Forthcoming Waxbill Finch Society meetings
2018
Branch
18 February 2018 (Sunday)
Northern Branch meeting - Bramley Village Hall, South Yorks S66 2SA (5 minutes from M18 Junction 1).
Hall open: 11.00am.
Presentation by Ian Morley on birds of Fiji and Vanuatu
All meetings
Visit our branch meetings page for all the details.