Page last updated: 08 August 2018 (website last updated: 11 November 2018)
Welcome to the Waxbill Finch Society's website
Website updated with WFS members' 2017 breeding returns
The 2017 breeding returns have now been incorporated into the Species section of the website and feature on the Profiles, Advisors, and Breeding Returns pages - that latter also allows you to download the full 1992-2017 returns in Excel or in pdf format. Since last year, we have presented these as a heat map to colour code the risks associated with the long-term viability of each species in UK aviculture. The returns are designed to promote debate on the popularity and risks associated with particular species. They also help in choosing those target species for the coming year.
Members who joined since July 2017 are eligible for the Top New Member award. Full details of all the special breeding awards will feature in the Summer 2018 edition of The Waxbill.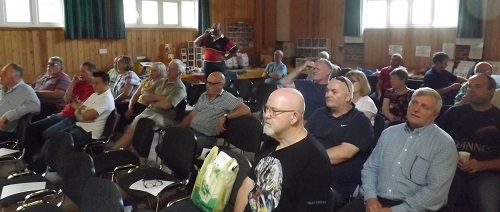 2017 AGM at Great Hallingbury, Essex
2018 Target Species
Following the 2015 breeding returns, it was agreed that the WFS would set a target species for each year to help promote awareness of, and encourage members both to keep and breed, that species.
The orange-cheeked waxbill was the first target species in 2016 and was joined by red-cheeked cordon bleu in 2017 as the numbers bred for both species had dipped precariously in recent years. The 2017 returns have shown both species have bounced back with the red-cheeked cordon bleu recording 120 bred while the orange-cheeked waxbill recorded 55 (from a low of one in 2015).
For 2018, the chosen target species is the Red-winged pytillia giving the WFS target list as:
WFS 2018 Annual General Meeting (AGM)
This year's AGM took place on Sunday 10th June at our Northern branch venue of Bramley village hall. Chris Ventouris was the guest speaker and a fuller report will feature in the next edition of The Waxbill and on this site.
The Waxbill Finch Society was formed in 1991 with the following aims:
To encourage the breeding of Estrildid Finches (Waxbills, Munias, etc.)
To share information about proven breeding and feeding methods
To help members locate, exchange, purchase or sell stock
To build up stocks of captive-bred birds
To assist members to contact one another at Branch Meetings or by telephone
This website is therefore designed both to promote our society and to help it achieve these aims. We also hope it will encourage potential members to develop an interest in these marvellous birds.